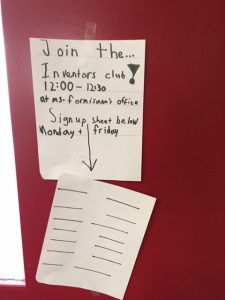 The Genesis of an Idea
A student in the Lower Division had approached me about wanting to start an Inventor's Club. After lunch last Friday, he came to my office to discuss what an Inventor's Club would entail. When I asked about possible inventions, he said, "Invent a way to make spinach taste good!" I said I didn't think we were going to have access to spinach. He said he would be agreeable to inventing things with everyday materials. I was relieved. We discussed location. He said, "The gym." I said, "I think my office would be a good place for our first meeting." That led me to my next question which was, "How many children do you think will attend the first meeting?" His answer, "46." I smiled and then thought to myself I think he needs to adjust his expectations. I said, "I believe that we should aim for ten students at the first meeting, and once kids learn more about what you can do at the inventor's club it might grow a bit in size. I think ten would be a super number of attendees as you get the club underway." He looked as if he wanted to argue with me about ten being acceptable but just nodded his head. I quickly changed the subject to how he should advertise the club and what day we would start. We agreed on two days that would work well for his schedule (my schedule was an afterthought!) He decided the next step would be to make posters to hang around the School advertising the club and necessary details. He was excited, and so was I. The meeting came to an end, and the posters were made. He got the permission of his teacher, and he and a friend traveled all around the School hanging posters with a sign-up sheet.
Progress
I returned to school after the long weekend and smiled as I passed many signs in the hall advertising the Inventor's Club. The additional sign up sheet with hand drawn lines hanging below remained empty. I was secretly breathing a sigh of relief as 46 students would have been a lot to organize. Then on Wednesday, I passed a poster with a number of names written below. I was happy we would have a few attendees; the club wouldn't be a bust. As the week progressed, I began to see a lot more names accompanying the posters, and I was starting to get a bit nervous. I stopped the club's founder in the hall and said to him, "I think you should go around and collect the names of the people who have signed up, so we have enough materials." He was happy to take a friend, clipboard in hand and write down the names of all the students who had signed up for Friday. Later, he burst into my office and said, "We have 50 kids signed up! I told you it was going to be popular!" I looked at him in disbelief and smiled. He had been right my office would never work.
The Big Day!
Friday arrived. The club creator was in his element. K-II Math Specialist, Katrina Mills and Grade II teacher, Sarah Bourque came to the rescue and joined us as we headed outside to collect materials. We brought sticks, pinecones, rocks, string, bark, and a glue gun out to the Pre-K/K playground and began to invent. Children began to design boats, marble chutes, and catapults. Because of the idea of a motivated student, children were collaborating and enthusiastically designing inventions. I thought to myself this is why I love leading at Park. We let children believe they can, and we support them while they do. To see a short video of one of the creations click HERE
Other lessons learned:
Never underestimate the power of a child and a great idea
Always have a Plan B
Glue guns are a marvelous tool