The Grade VII Latin II class is learning about Roman art & architecture this year, and thinking about how these cultural aspects convey stories from the past. Our first exciting project in this yearlong study is drawing frescoes on the classroom walls!
First, we painted the bulletin boards with chalkboard paint. The colors, ancient blue and Pompeiian red, are the background for our living frescoes.
Here is a fun time lapse of our painting process:
Then, we used chalk to draw our very own ancient frescoes! Our inspiration:
The final project: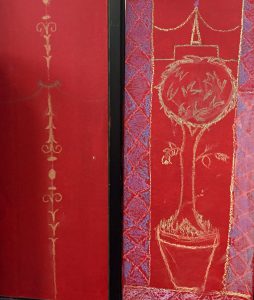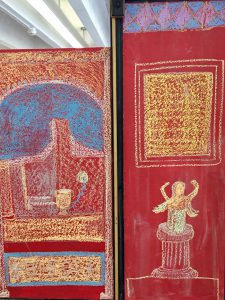 At the end of the year, we will wash the frescoes off the walls. The chalkboard paint will last for years to come, so that future Latin classes will be able to chalk their own frescoes on the wall each year!
A very special thanks to the Parents' Association for approving our Faculty Grant for this project, and to Ms. Sparks who is giving us her time and expertise to help us create a vision and bring it to life!
 -Katie