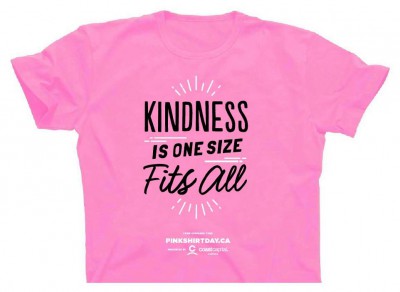 In late February, the entire school participated in a Social Justice Week. Social Justice, explained Park's director of Diversity, Equity and Inclusion, is what we DO so that everyone can have access to what they need. The organizing theme for the week was #do one thing to # make things better.
Upper Division students organized the first ever Pink Shirt Day at Park. Students also had a series of Morning Meeting presentations, including one by the artist Bren Bataclan, who spoke about his Smile Project.
While the younger students were assigned to do one specific thing, the older students were free to choose the one thing that they wanted to do. Below is a sample of Upper Division responses to the question, What is the one thing you are going to make better?
I'm going to try to make the world better by making sure everyone feels included whenever I can.
I do my best to say hi to nearly everyone.
I would like to try to express more positivity towards everyone no matter what.
Hold the door for someone and think about the people around me more.
We are working on creating a rooftop garden with herbs to harvest for the kitchen.
I will try to be the best student I can be by helping my friends in tough situations and help watch my language.
I am going to be even more appreciative to the kitchen staff for the delicious lunches they make. I am also going to clear even more dishes and platters at my table at the end of lunch.
I am going to recycle all of my papers that I don't want instead of just throwing it in the trash!
I will treat my sister with more respect than I usually do.
To say hello to people I know and to acknowledge that people are trying to help me.
I am going to help people who are being bullied. If I see someone being bullied, I am going to be an ally and tell them to stop.
I am going to make sure that all the teachers know that THEY are making things better by teaching me things and helping students everyday.
I want people to feel more accepted and involved at school or in a conversation.
Social Justice Week may be over, but Upper Division students (and their teachers) will continue to identify what they can do to make their world a better place.