Ji Qie and Colleen Graves- Chibitronics Paper Circuits
Ji Qie and I met years ago at a teacher workshop at the MIT Media Lab when she was first working on her circuit stickers.  I was so great to see her again and see how much her project has grown over the past several years.
Ji did her Masters with Leah Buechley at the High-Low tech lab and is now doing her PhD with Mitch Resnick at the Lifelong Kindergarten Group.
She is also now a member of the MIT Scratch Team.
Colleen is a rockstar teacher librarian who is awesome and amazing!  She does very inspiring with students and has written a few books on technology in education.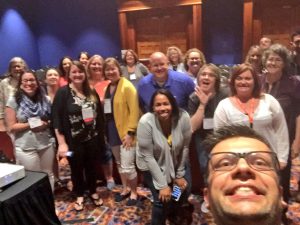 Leslie Fisher– Virtual Reality pre-conference presenter and Thomas Glaeser, CoSpaces
Virtual Reality rockstars
Jessica Schmidt  @Mlle_Schmidt
Kindergarten teacher, master technology user, SeeSaw pro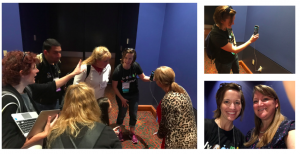 SeeSaw Team via FaceTime
SO HONORED to share the stage Monday morning with:
 Dr. Peña Bedesem
Nancye Blair Black  
Monica Burns  
Dr. Alice Christie  
Dr. Jana Craig Hare  
Hall Davidson – has worked from think tanks in Turkey to classrooms in Tennessee. He has collaborated with educational thought leaders including teachers, superintendents, and departments of education. A K-12 bilingual math teacher and college faculty member, he left the classroom to become part of an Emmy-winning team, creating math and technology integration programs. He helped launch California's technology blueprint and now serves as a board member for ISTE . In his current role as Senior Director, he supports the global partnerships, teacher networks, and learning initiatives of Discovery Education, the educational unit of Discovery Communications.
Steve Dembo   – A pioneer in the field of educational social networking, Dembo was among the first to realize the power of blogging, podcasting, Twitter, and other Web 2.0 technologies in connecting educators and creating professional learning communities.

Steve Dembo served for ten years as Discovery Education's Director of Learning Communities and led their Innovation and Strategy team.   He is the co-author of the book Untangling the Web: 20 Tools to Power Up Your Teaching. The National School Board Association named him one of 2010's "Twenty to Watch," a list honoring individuals finding innovative ways to use technology to increase classroom learning.

Michele Eaton  
Leslie Fisher  
Matthew Fox  
Dr. Scott Garrigan   – Lehigh University
Terrance Godwaldt   – Centre for Global Education
Kim LeClaire  
Gail Lovely  
Jeff Rothenberger  
Aaron Sams  
Mark Schreiber   – Senior Stanford FabLearn Fellow and founder of Design Case Consulting
Chris Turnbull  
Dr. Mia Kim Williams  
Rachelle Wooten  
Dr. Maureen Yoder   – Lesley University (SMALL WORLD- also one of the professors in my Masters in Technology in Education program.  She is the person who first introduced me to LEGO WeDo kits back when they were considered an "emerging technology.")
Lance Yoder  
Dr. Leigh Zeitz   – Dr. Z is an ISTE author who has written 7 books, over 75 articles and given over 150 presentations on 3 continents about technology and education. He recently assumed presidency of the ISTE Global Collaboration Network and looking forward to opportunities that will be provided by/for global educators to engage their students in learning.
Joe Marquez, Sons of Technology
https://sites.google.com/site/sonsoftechnologypd/
"Professional Development for Risk Taking Teachers – Sometimes Breaking the Rules is the Only Option!!!!!"
Badge-based Prof Dev for teachers
Dr. Scott Garrigan, Professor of Practice of Teaching, Learning & Technology, Lehigh University
We met backstage waiting to present our ISTE Bytes, and we chatted about International schools and technology in education.  After our presentations, we went out for breakfast and chatted about many things.  Despite the fact that he is soon retiring and I consider myself to be at the beginning of my career, we had a lot in common.
We chatted about online and blended learning.  We discussed MOOCs and the MIT EdX course "Launching Innovation in Education," and MIT's SchellerTeacher Education Program, their Teaching Systems Lab, and their Education Arcade.  We talked about technology integration, coaching, and instructional design.  We talked about connections at the MIT Media Lab.  He also knows people from King's Academy in Jordan, and I worked with that school when I worked for Global Online Academy.  When I told him that I wanted to work in Jordan, Qatar, or the UAE one day, he also knew someone from a school in Abu Dhabi.  It's a small world.
Lehigh runs a summer Doctorate of Education (Ed.D.) in Educational Leadership, and they attract many International school leaders
He told me about Ray Kurzweil and his book The Singularity Is Near: When Humans Transcend Biology, Singularity University, Peter H. Diamandis' Abundance: The Future Is Better Than You Think, and XPrize, NetLogo and PhET
Here is one of his sites
Two of his ISTE presentations:
After leaving breakfast with Gary, I literally ran into: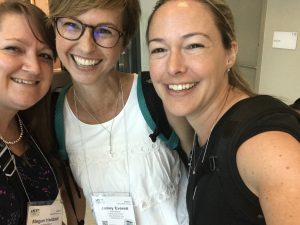 Jamie Everett and Jennifer Uhl, Global Online Academy
We ran into each other in the hallways and took a quick GOA mini reunion selfie
Then we headed off to the Expo Fair…
Jamie, Jen, and I separated after the CommonSense Media booth.  I went to the Osmo booth and ran into: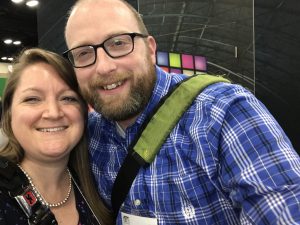 Jonathan Schmidt from Meadowbrook School and a fellow member of MEMSET
Jonathan and I waited in line together to win free swag from the Osmo booth.
He won an Osmo base. 🙂
I won a keychain. 🙁
Jonathan and I went our separate ways, and a few minutes later at the Microsoft booth I ran into:
Mitch Resnick, Lifelong Kindergarten Group, MIT Media Lab and co-founder of the Scratch programming language
I forgot to take my selfie with Mitch!!! but I ran into him at the Microsoft booth at the Expo fair
We chatted briefly about Minecraft and Scratch
After the Expo fair I was EXHAUSTED!  So I went to the Starbucks for some nourishment, where in line I met: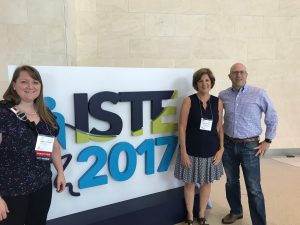 Gary Goldberg, President of FableVision and Betsy Peisach, Vice President Education Division, Maryland Public Television
I was waiting in line (a long enough line to make new friends!) for food and coffee when I met Gary from FableVision and Betsy from PBS.
Gary and I chatted about education and technology.  We exchanged business cards, and we might attend each others' sessions tomorrow if we don't have conflicts.
I plan to attend some of the educator events at FableVision Studio.
Park might be lucky enough to get the opportunity to help pilot some of the new technologies from FableVision.  AWESOME!!!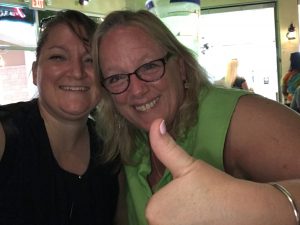 At dinner I saw another MEMSET friend, Dolly Ryan, the Director of Technology at Belmont Day School.
And I met Jennifer Carey face-to-face for the first time.  Jennifer is  the Ed Tech Director at Ransom Everglades School, she is an ATLIS Board Member, a teacher, a Google Certified Educator, and an Apple Teacher 2016.  Here is her blog.
Tuesday at the poster fair and playgrounds I met: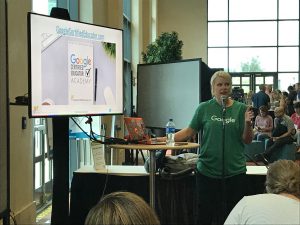 Kasey Bell from ShakeUp Learning.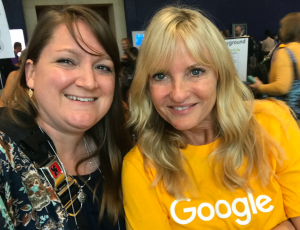 And Holly Clark from EdTech Team
I also ran into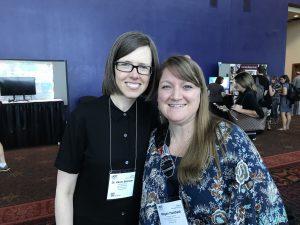 Karen Brennan.  Karen and I met over ten years ago at the MIT Media lab when she was a member of the Scratch Team and  working on her PhD with the Lifelong Kindergarten Group.    She is now an Associate Professor of Education at Harvard University in the Graduate School of Education.  Karen is one of the creators of the Scratch Creative Computing Curriculum Guide and used to lead ScratchEd events at the Media Lab.
Tuesday night I spoke on the phone with my friend Tabbatha, whom I had met at HGSE's Project Zero Future of Learning conference three or four years ago, and she mentioned a conference she wanted me to attend with her.  She said she was also going to send it to Cameron, an educator in Australia, whom we had also met at HGSE.  I hadn't seen Cameron in 3 years, and whom do I see in the audience the very next morning during my presentation…
Cameron!!!  What a small world!  Here is Cameron's blog "Its About Learning: Education is Too Often About Teaching and Not Enough About Learning," where he talks about my presentation.
At the Apple Distinguished Educator playground at ISTE, I ran into/met several inspiring educators:
Karen Bosch– Digital Sketchnotes pre-conference presenter
I forgot to take my self with Karen during our pre-conference work shop, but amazingly I ran into her later in the week at the Apple Distinguished Educators playground, where I also met…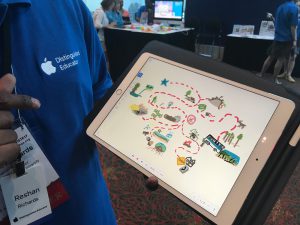 Reshan Rishards, the creator of the Explain Everything app.  I told Reshan about my disastrous experience with attempting to sketchnote, and he showed me some of his very first sketchnotes to make me feel better and encourage me not to give up.
Reshan Richards is friends with Shiva Behradnia, so it was fun to make that connection.  He is also the author of Blending Leadership, which is in my to-read pile.  Reshan will be spending a week later this summer at Islandwood on Bainbridge Island outside of Seattle, WA, with Global Online Academy.  I am SO jealous and so bummed I won't be there with GOA this summer, as I have spent one week there at Islandwood for the past two summers.
At the Apple Distinguished Educators playground, I was also lucky enough to meet Dan Kemp from Book Creator.
On Wednesday I went to a session on Augmented Reality with Dr. Micah Shippee and just like my Virtual Reality presenter brought in a field expert, Micah did as well.  We were joined by Jeremy from Merge Cube.
Wednesday night was MEMSET at ISTE night!  We gathered at local Guadalajara Grill for yummy food and collegial conversation.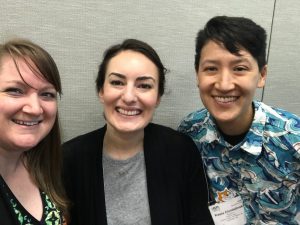 Thursday I got to catch up with the Scratch team when they presented "What's new in Scratch."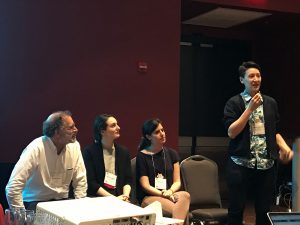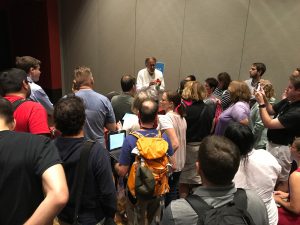 Members of the Scratch Team                   Mitch- Scratch 3.0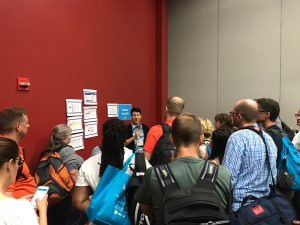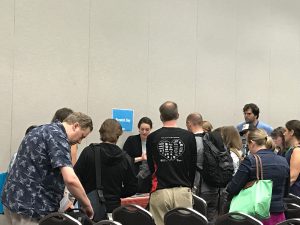 Kasia- Scratch Educator Accounts         Saskia- Scratch Day